Ortrex® Voriconazole 200mg tablets
FULL PRESCRIBING INFORMATION - CLINICAL STUDIES


Ortrex Details

Contact Us
Address:
Taj Pharma India Brands
Taj Pharma Group (India)
214, Bake House, Bake House Lane,
Fort, Mumbai 400001, India.
E-mail: ortrex@tajpharma.com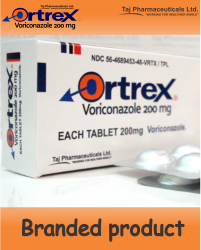 CLINICAL STUDIES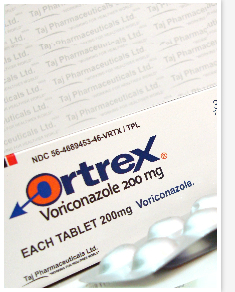 Voriconazole, administered orally or parenterally, has been evaluated as primary or salvage therapy in 520 patients aged 12 years and older with infections caused by Aspergillus spp., Fusarium spp., and Scedosporium spp.

Invasive Aspergillosis

Voriconazole was studied in patients for primary therapy of invasive aspergillosis (randomized, controlled study 307/602), for primary and salvage therapy of aspergillosis (non-comparative study 304) and for treatment of patients with invasive aspergillosis who were refractory to, or intolerant of, other antifungal therapy (non-comparative study 309/604).

Candidemia in Non-neutropenic Patients and Other Deep Tissue Candida Infections

Voriconazole was compared to the regimen of amphotericin B followed by fluconazole in Study 608, an open label, comparative study in nonneutropenic patients with candidemia associated with clinical signs of infection. Patients were randomized in 2:1 ratio to receive either voriconazole (n=283) or the regimen of amphotericin B followed by fluconazole (n=139). Patients were treated with randomized study drug for a median of 15 days. Most of the candidemia in patients evaluated for efficacy was caused by C. albicans (46%), followed by C. tropicalis (19%), C. parapsilosis (17%), C. glabrata (15%), and C. krusei (1%).

An independent Data Review Committee (DRC), blinded to study treatment, reviewed the clinical and mycological data from this study, and generated one assessment of response for each patient. A successful response required all of the following: resolution or improvement in all clinical signs and symptoms of infection, blood cultures negative for Candida, infected deep tissue sites negative for Candida or resolution of all local signs of infection, and no systemic antifungal therapy other than study drug. The primary analysis, which counted DRC-assessed successes at the fixed time point (12 weeks after End of Therapy [EOT]), demonstrated that voriconazole was comparable to the regimen of amphotericin B followed by fluconazole (response rates of 41% and 41%, respectively) in the treatment of candidemia. Patients who did not have a 12-week assessment for any reason were considered a treatment failure.

Esophageal Candidiasis

The efficacy of oral voriconazole 200 mg twice daily compared to oral fluconazole 200 mg once daily in the primary treatment of esophageal candidiasis was demonstrated in Study 150–305, a double-blind, double-dummy study in immunocompromised patients with endoscopically-proven esophageal candidiasis. Patients were treated for a median of 15 days (range 1 to 49 days). Outcome was assessed by repeat endoscopy at end of treatment (EOT). A successful response was defined as a normal endoscopy at EOT or at least a 1 grade improvement over baseline endoscopic score. For patients in the Intent to Treat (ITT) population with only a baseline endoscopy, a successful response was defined as symptomatic cure or improvement at EOT compared to baseline. Voriconazole and fluconazole (200 mg once daily) showed comparable efficacy rates against esophageal candidiasis.

Other Serious Fungal Pathogens

In pooled analyses of patients, voriconazole was shown to be effective against the following additional fungal pathogens:

Scedosporium apiospermum - Successful response to voriconazole therapy was seen in 15 of 24 patients (63%). Three of these patients relapsed within 4 weeks, including 1 patient with pulmonary, skin and eye infections, 1 patient with cerebral disease, and 1 patient with skin infection. Ten patients had evidence of cerebral disease and 6 of these had a successful outcome (1 relapse). In addition, a successful response was seen in 1 of 3 patients with mixed organism infections.

Fusarium spp. - Nine of 21 (43%) patients were successfully treated with voriconazole. Of these 9 patients, 3 had eye infections, 1 had an eye and blood infection, 1 had a skin infection, 1 had a blood infection alone, 2 had sinus infections, and 1 had disseminated infection (pulmonary, skin, hepatosplenic). Three of these patients (1 with disseminated disease, 1 with an eye infection and 1 with a blood infection) had Fusarium solani and were complete successes. Two of these patients relapsed, 1 with a sinus infection and profound neutropenia and 1 post surgical patient with blood and eye infections.


Download Ortrex Overview
Ortrex® Voriconazole 200mg tablets are a prescription medicine used to treat certain serious fungal infections in your blood and body. Ortrex® Voriconazole 200mg tablets sold by Taj Pharmaceuticals Limited (India), a global pharmaceuticals company. It is available in India, Middle East and a few other South Asian countries.
Ortrex® Voriconazole 200mg tablets_CMI
Ortrex® Voriconazole 200mg tablets_FPI